Source: Official Site
To 

Generate

 Axis Bank Fee Payment 

Pay In Slip

Click Here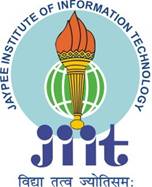 Dear Parents/Guardians/Students,
JIIT, Noida has made arrangements with the AXIS BANK for collection of the Fee through all India Network of Axis Bank Branches. Students may pay the fee for the Even Semester 2012 following the instructions listed below:
1) Period of payment – 10th December to 31st December 2011 only.(Monday-Friday- between 10.00 am to 3.30 pm and on Saturdays between 10.00 am -1.00 pm )*
Part payment of fee not allowed.
Payment by Cheques not allowed.
In case of payment by DD/ Pay orders, it should be payable at the place of deposit. For example if depositing in Patna Branch – DD/PO should be payable at Patna only).  

Outstation DD/PO not acceptable

.
2) Go to website www.jiit.ac.in. Go to notices and click on the link "Fee Deposit Pay In Slip – Even Semester 2012"
3) Enter your enrollment number.
4) You will reach the Fee Deposit PAY- IN- SLIP. (With relevant Pre-printed details.
5) Take out the print out of two pages (one Student Copy and one Bank Copy).
6) Go to  any nearest Axis Bank branch with the  Pay- in- Slip- 2(two) Copies.
7) Deposit the prescribed fee by DDs / Pay Orders/Cash along with the  Pay-in-Slip Copies (both Banks & Student copies).
8 ) Axis Bank Branch will keep Bank Copy.  It shall return the student copy with stamp.
9) The Student must bring the stamped copy of PAY- IN- SLIP on the day of registration and submit the same with the Finance & Accounts Deptt. for issuing of the institute Fee Receipt.
Notes:
Those who do not have printers at home may obtain the pay-in-slip from the accounts section before proceeding home between 1-3 December, 2011 (4 P.M. – 6 P.M.)
NRI students who have already paid the annual fee need not follow these instructions.
In case of deviation of fee structure e.g. Loan from JISF, Staff Ward exemption etc. the student may pay the amount shown in the pay-in-slip and settle the balance with accounts later.
In case of short fall due to any reason the accounts shall intimate the details to the students who shall be required to make up the amount at the earliest.